Innovative techniques for screening thermally labile explosives in textiles, soil and water
First presented at Pittcon 2021
The poster entitled "Innovative techniques for screening thermally labile explosives in textiles, soil and water" was presented by Markes International at Pittcon, which was held on 8–12 March 2021 as a virtual conference.
A high-throughput technique for forensic investigations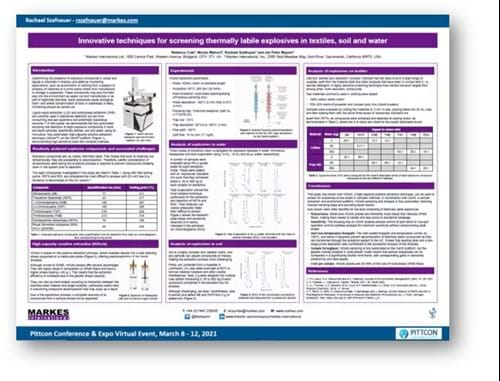 Determining the presence of explosive compounds in solids and liquids is important in forensic and defence monitoring applications.
Liquid–liquid extraction and solid-phase extraction are currently used in explosives detection but are time-consuming and use expensive and potentially hazardous solvents.
In this poster, we demonstrate the fully automated sampling and detection of eight explosive compounds in solid and liquid samples using an innovative, fully automated, high-capacity sorptive extraction technique (HiSorb™) on the Centri® platform, demonstrating high sensitivity even with complex matrices.
Please complete the form below to download the poster