Monitoring VOC emissions from respiratory medical devices in accordance with the new ISO 18562 method
First presented at the 21st Conference Odour & Emissions of Plastic Materials, 2019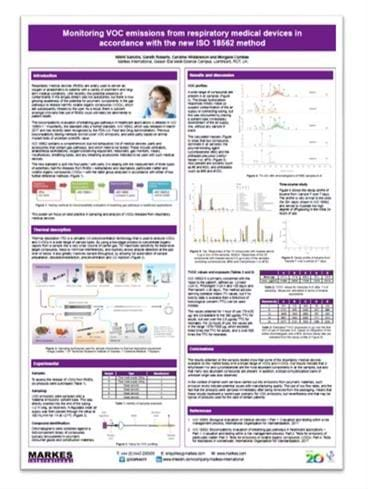 Respiratory medical devices (RMDs) are widely used to deliver air, oxygen or anaesthetics to patients with a variety of short-term and long-term medical conditions.
Until recently, the potential presence of contaminants in the air/gas stream was not questioned, but there is now growing awareness of the potential for polymeric components in the gas pathways to release harmful volatile organic compounds (VOCs), which are subsequently inhaled by the user. As a result, there is concern amongst clinicians that use of RMDs could ultimately be detrimental to patient health.
Download this poster first presented at the Odour and Emissions from Plastics conference in Kassel, Germany in 2019.
Please complete the form below to download the poster