New car smell: What's in the air?
Presented at Pittcon 2020
The poster entitled "New car smell: What's in the air?" was presented by Markes International at Pittcon, which was held on 1–5 March 2020 in Chicago, Illinois.
Understanding chemical emissions inside vehicles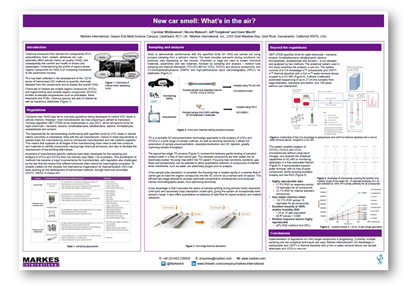 Chemical emissions from vehicle trim components (PVC, polyurethane, foam, carpets, adhesives etc.) can adversely affect vehicle interior air quality (VIAQ), and subsequently the comfort and health of drivers and passengers. Understanding the profile of vapour-phase organic compounds for VIAQ is of increasing importance to the automotive industry.
This has been reflected in the development of the 12219 series of harmonised ISO methods to quantify chemicals released from the components and to assess the overall VIAQ.
Chemicals of interest
Chemicals of interest are volatile organic compounds (VOCs) and higher-boiling semi-volatile organic compounds (SVOCs) emitted at elevated temperatures such as phthalates, flame retardants and PCBs. Odorous species are also of interest as well as hazardous aldehydes.
Please complete the form below to download the poster