Passive sampling and its pivotal role in 'greener' sampling of VOCs in various industrial settings
Presented at the National Environmental Monitoring Conference 2021
The poster entitled "Passive sampling and its pivotal role in 'greener' sampling of VOCs in various industrial settings" was presented by Markes International at the National Environmental Monitoring Conference, which was held on 2–22 August 2021 as a hybrid in-person/virtual conference.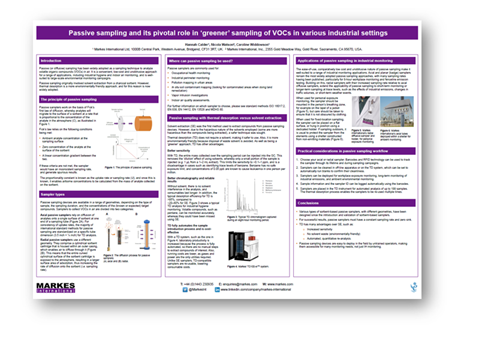 Why thermal desorption is better than solvent extraction
Passive (diffusive) sampling has been widely adopted as a sampling technique to analyse volatile organic compounds (VOCs) in air. It is a convenient, low-cost and unobtrusive approach for a range of applications, including industrial hygiene and indoor air monitoring, and is well-suited to large-scale environmental monitoring campaigns. Passive sampling originally involved solvent extraction from a charcoal sorbent. However, thermal desorption is a more environmentally friendly approach, and for this reason is now widely adopted.
This poster demonstrates the principles of passive sampling, the types of samplers available (radial and axial), where passive sampling can be used, and explains why passive sampling with thermal desorption is better than passive sampling with solvent extraction.  
Please complete the form below to download the poster