Quantitative analysis of microplastics in bottled drinks
First presented at the SETAC conference 2020
First presented at the 30th Annual Meeting of the Society of Environmental Toxicology and Chemistry (SETAC), which was held 3–7 May 2020 as a virtual conference, the poster entitled "Quantitative analysis of microplastics in bottled drinks" was presented by Markes International, in collaboration with Eurofins | IPROMA.
The adverse impact of microplastics in the environment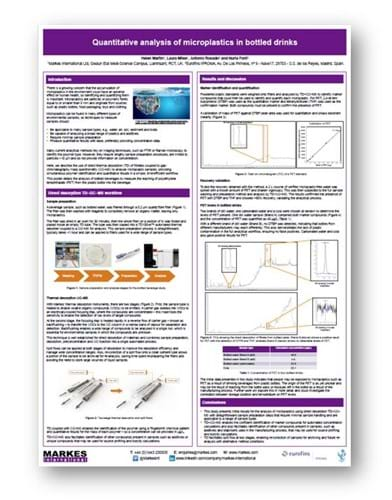 There is a growing concern that the accumulation of microplastics in the environment could have an adverse effect on human health, so identifying and quantifying them is important. Microplastics are particles or polymeric fibres equal to or smaller than 5 mm and originate from sources such as plastic bottles, food packaging, toys and clothing.
Microplastics can be found in many different types of environmental samples, so techniques to measure samples should:
Be applicable to many sample types, e.g., water, air, soil, sediment and biota
Be capable of analysing a broad range of plastics and additives
Require minimal sample preparation
Produce quantitative results with ease, preferably providing concentration data.
Many current analytical methods rely on imaging techniques, such as FTIR or Raman microscopy, to identify the polymer type. However, they require lengthy sample preparation processes, are limited to particles >10 µm and do not provide information on concentration.
A novel approach to microplastic analysis
This poster describes the use of direct thermal desorption (TD) of filtrates coupled to gas chromatography mass spectrometry (GC–MS) to analyse microplastic samples, providing simultaneous polymer identification and quantitative results in a simple, time-efficient workflow. It details the analysis of bottled beverages to measure the leaching of polyethylene terephthalate (PET) from the plastic bottle into the beverage.
Please complete the form below to download the poster