The use of headspace, sorptive extraction and thermal desorption with GC–MS for the analysis of cannabis terpenes in edibles and oil
Presented at Pittcon 2020
The poster entitled "The use of headspace, sorptive extraction and thermal desorption with GC–MS for the analysis of cannabis terpenes in edibles and oil" was presented by Markes International at Pittcon, which was held 1–5 March 2020 in Chicago, Illinois.
Tackling challenges of analysing cannabis terpenes and terpenoids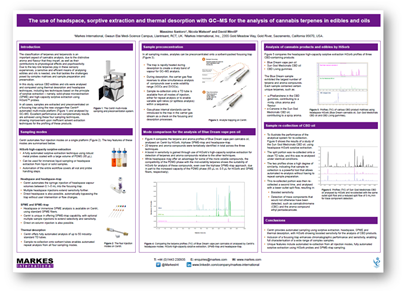 The classification of terpenes and terpenoids is an important aspect of cannabis analysis, due to the distinctive aroma and flavour that they impart, as well as their contributions to physiological effects and psychoactivity. Due to the key role terpenes play in these sensory experiences, a sensitive and efficient means of analysing edibles and oils is needed, one that tackles the challenges posed by complex matrices and sample preparation and preservation.
In this study, various CBD edibles and oils were analysed and compared using thermal desorption and headspace techniques, including two techniques based on the principle of sorptive extraction – namely, solid-phase microextraction (SPME) and high-capacity sorptive extraction using HiSorb™ probes.
Four sampling techniques on one platform
In all cases, samples are extracted and preconcentrated on a focusing trap using the new cryogen-free Centri automated multi-mode platform and analysed by GC–MS.
Excellent performance and complementary results are achieved using these four sampling techniques, showing improvement upon inefficient solvent extraction techniques for the profiling of these products.
Please complete the form below to download the poster