The use of immersive and headspace sorptive extraction techniques with GC–MS for the analysis of aroma profiles and odorants in wine
Presented at Pittcon 2020
The poster entitled "The use of immersive and headspace sorptive extraction techniques with GC–MS for the analysis of aroma profiles and odorants in wine" was presented by Markes International at Pittcon, which was held on 1–5 March 2020 in Chicago, Illinois.
Optimising a mode of analysis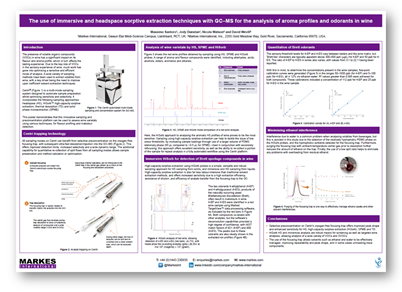 The presence of volatile organic compounds (VOCs) in wine has a significant impact on its flavour and aroma profile, which in turn affects the tasting experience. Due to the key role of VOCs in the sensory experience of wine, much work has gone into optimising a sensitive and efficient mode of analysis. A wide variety of sampling methods have been used to extract volatiles from wine, with a key driver being the need to improve upon inefficient solvent extraction techniques.
Four sampling methods on one platform
Centri® is a multi-mode sampling system designed to automate sample preparation whilst optimising sensitivity and selectivity. It incorporates the following sampling approaches: headspace(HS), HiSorb™ high-capacity sorptive extraction, thermal desorption(TD)and solid-phase microextraction (SPME).
This poster demonstrates that this innovative sampling and preconcentration platform can be used to assess wine varietals using various techniques, for flavour profiling and malodour detection
Please complete the form below to download the poster