Launch of fully automated multi-mode sampling and concentration system for GC–MS
4 April, 2018
Markes International (Llantrisant, UK) has announced the launch of Centri®, a fully automated multi-mode sampling and concentration system for GC–MS.
Market-leading robotics for full automation
The new platform, which is being launched at Analytica 2018, uses market-leading robotics to reliably automate sampling and preconcentration of volatile and semi-volatile organic compounds (VOCs and SVOCs) through the use of several popular sample introduction modes – HiSorb™ high-capacity sorptive extraction, headspace, headspace–trap, SPME, SPME–trap, and thermal desorption.
Markes' Technical Marketing Director, Dr Massimo Santoro, says full automation is central to the appeal of the new instrument: "The use of robotics for all operations makes Centri ideal for many laboratories, especially those who are currently struggling with time-consuming manual sample preparation techniques, such as liquid–liquid extraction and solid-phase extraction."
Advanced trapping and sample re-collection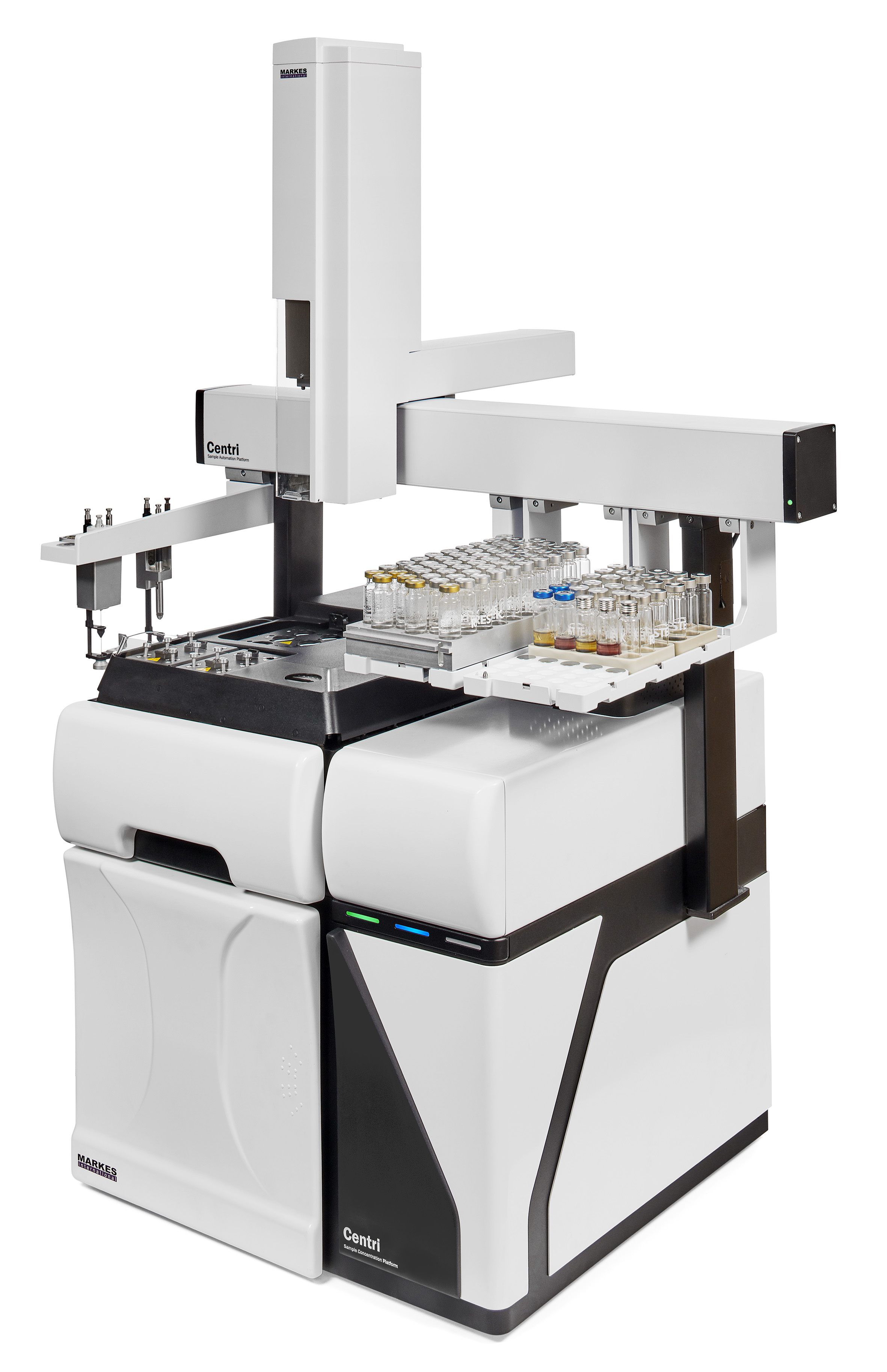 Another key feature of Centri is that analyte flows from all sampling modes can be concentrated on a sorbent-packed, cryogen-free focusing trap, using the same highly successful technology found in Markes' range of thermal desorption (TD) instruments.
It's this trapping and valve technology, says Santoro, that underpins several key advantages of the new platform: "As well as enabling ppt-level sensitivity and allowing selective purging of interferents such as water and solvents, the trap and valve design used in Centri allows samples to be split and re-collected onto a clean sorbent tube – a technology that we pioneered at Markes 20 years ago."
High-sensitivity headspace, SPME and thermal desorption analysis
As well as the innovative approach of high-capacity sorptive extraction, Centri can also automate sampling using a number of well-established and widely-used techniques, enabling the analyst to select the best method for their sample.
Headspace (HS) and solid-phase micro-extraction (SPME) are widely used in many laboratories, and Centri offers the benefits of trap-based focusing and sample re-collection to extend the sensitivity and applicability of these methods, in addition to allowing analysis using conventional HS and SPME.
Centri can also desorb industry-standard thermal desorption tubes in compliance with standard methods. These tubes can either be packed with sorbents and used in conjunction with pumped, diffusive or dynamic headspace sampling, or used to contain small samples of materials and foods, which are then desorbed directly.
Santoro says: "At Markes we're well aware that modern GC–MS laboratories need to run a variety of methods on their samples. That's the reason why we we've incorporated a range of sampling modes into Centri, to allow that essential flexibility while maintaining the outstanding across-the-board performance that our many TD customers around the world have come to rely on."
Launch at Analytica 2018
Centri is being launched at Analytica 2018, which is taking place in Munich, Germany, from 10–13 April. Visitors are invited to visit the company's booth (Hall A2 Booth 106) to see Centri and talk to the company's specialists to see how it could transform the way they do their analyses.
"Since then, we've found that many analysts value re-collection because it allows a single sample to be analysed multiple times. This approach brings numerous benefits to Centri now – for example, reduced need to carry out lengthy sample extraction steps to repeat an analysis, greater peace of mind by storage of valuable samples, analysis of a wider concentration range by changing the split flow ratios, and easy validation of complete analyte transfer."
Productivity enhancements
The overall result of bringing together these innovations in automation and trapping, says Santoro, is an instrument that marks a step-change in efficiency for laboratories using GC–MS: "It's said that time is money, and this is especially true in modern analytical laboratories, where even modest improvements in sample throughput can make major differences in revenue."
"By automating the entire process of sampling, preconcentration and GC injection for solids, liquids and vapours, Centri allows major productivity improvements to be made – the analyst can set up a complex sequence of runs for a variety of samples and injection modes, and then literally walk away to get on with other tasks."
Automated high-capacity sorptive extraction
Amongst Centri's many features is one that is sure to gain the attention of many analysts – the ability to automate high-capacity sorptive extraction from liquids and solids using Markes' HiSorb™ probes. By using a relatively large volume of PDMS sorbent fixed on a robust, inert metal probe, HiSorb probes simultaneously offer high sensitivity and robustness to matrix interferences – prominent on the wish-list of many analysts.
Santoro points out the versatility of this approach: "High-capacity sorptive extraction using HiSorb probes is applicable to immersive and headspace sampling from a wide range of sample types, and Centri now makes this powerful technique really attractive to high-throughput analytical laboratories."
"We expect the automated HiSorb capability to be particularly useful to those working in the food and environmental sectors, where reliable analysis of aqueous samples, soils and solids in general is a key area of interest."