Further business success for Markes – Queen's Awards for Innovation and International Trade
23 April, 2019
Markes has received the prestigious awards in the 'Innovation' and 'International Trade' categories
On the back of the ground-breaking valving technology incorporated in all of its thermal desorption instruments, as well its continued achievement in growing overseas trade. Markes is only one of 10 Welsh companies to receive an award and one of only 6 British companies to be recognised in two categories. The pair of awards follow on from success in 2015, when similar business growth led to a Queen's Award for International Trade1.
The switch-valve that is the subject of the Innovation award was developed and patented by the company, and allows routine monitoring of a wide range of volatile and semi-volatile organic compounds, by virtue of its tolerance of temperature extremes, small size, quick operation and construction from inert materials.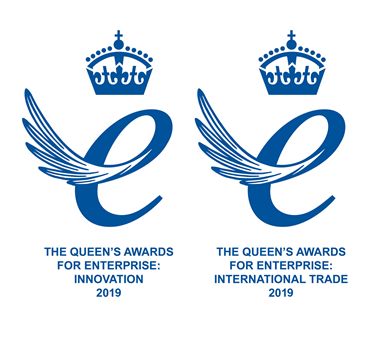 Alun Cole, Founding Director of Markes International, explains the importance of the valving technology to the company's business:
"Precise, reproducible control of gas flows is vital for the successful operation of any thermal desorption instrument. The switch-based valve design offered exactly this, at precisely the time when analysts were wanting to expand the use of TD to different sample types and a wider analyte range."
"Looking back at the 20 years Markes has been in business, it's fair to say that innovations like our switch-valve have been central to our achievements. We always have been, and continue to be, an innovative company, and are therefore very proud to have received these Queen's Awards. These stand as testament to our excellence in analytical chemistry – both in our technical innovation, as well as our success in satisfying our customers globally."
Tim Hawkins, Managing Director of Markes International Ltd, added: "It is a great honour to be recognised by Her Majesty The Queen for our excellence in Innovation and, for the second time, International Trade."
"We take great pride in introducing new technologies to our field of analytical chemistry, and alongside our valued trading partners, have been successful in supporting customers around the world and enhancing scientific progress."