Markes hailed as Welsh innovation success story
22 March, 2019
Markes International has been featured as a success story by Business Wales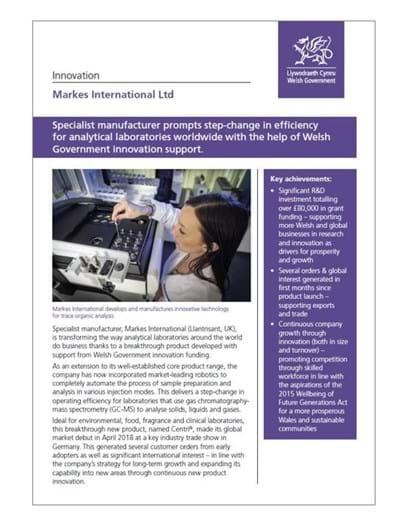 Business Wales is the Welsh Government's service that gives impartial, independent support and advice to those starting, running and growing a business in Wales.
Markes' most recent success has been chronicled in a case study published by the innovation arm of Business Wales as an example of excellence, and to encourage other Welsh businesses to become more competitive, increase sales and enter new markets.
The case study focuses on Centri®, Markes International's breakthrough sample preparation platform that incorporates market-leading robotics to completely automate the process of sample preparation and analysis in various injection modes. Centri® allows high-sensitivity unattended sampling and preconcentration of VOCs and SVOCs in liquid, solid and gaseous samples.
The success of Centri
Centri®was developed with support from Welsh Government innovation funding, and made its global market debut in April 2018 at Analytica, a key industry trade show that takes place biennially in Munich, Germany. As a result, Markes received several customer orders and late last year was given an innovation award by sector-leading magazines 'The Analytical Scientist' in its 'Innovation Awards 2018: Strokes of Genius' review. The judges said: "It is often not immediately clear upfront which of the different sample preparation techniques for the analysis of volatiles will give the best results – this instrument simply combines them all."
Dr Massimo Santoro, Business Unit Director at Markes International, commented: "Growth through innovation is our company life-blood. We fully intend to continue our rapid growth and new market development through our ongoing R&D programme."