New study shows compliance of Markes' equipment with Chinese air monitoring regulation
9 January, 2019
Compliance with Chinese air monitoring regulation
A new application note released by Markes International shows how the company's air monitoring equipment provides excellent performance for a 117-compound set of air pollutants specified in a recent Chinese regulation, without the cost and inconvenience of using liquid cryogen.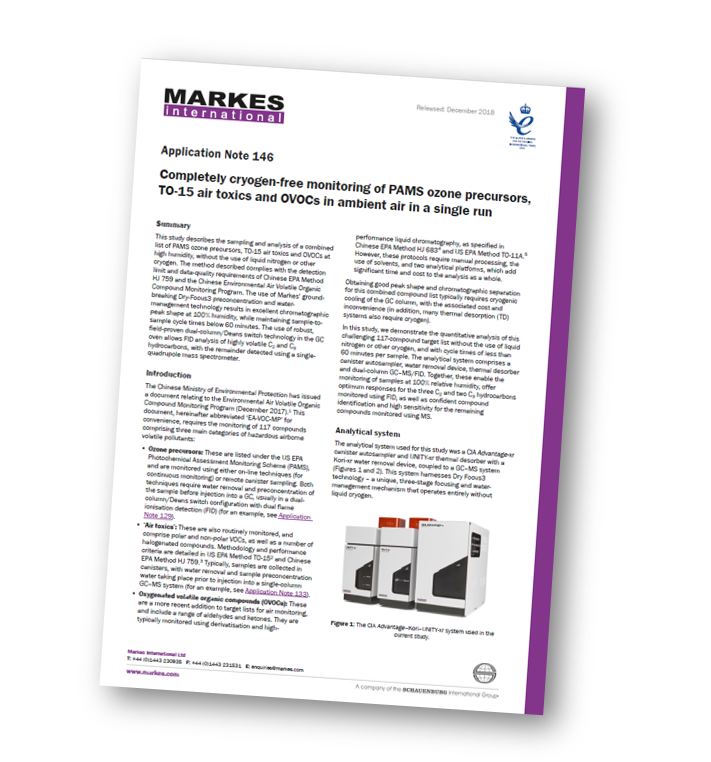 Hazardous airborne volatiles – 117 compounds
The new regulation is described in the document 'Environmental Air Volatile Organic Compound Monitoring Program in Key Areas in 2018', which has been published by the Chinese Ministry of Environmental Protection. It requires the monitoring of 117 compounds comprising three categories of hazardous airborne volatiles – PAMS ozone precursors, TO-15 air toxics, and oxygenated volatile organic compounds (OVOCs). Achieving good GC performance for this range of compounds in one run typically requires liquid nitrogen, which is expensive and makes it difficult to run unattended analyses.
Operates entirely without liquid cryogen
The new study shows how such issues can be avoided by the use of Markes' ground-breaking preconcentration and water-management technology, which operates entirely without liquid cryogen. The report also demonstrates excellent chromatographic peak shape across the whole compound list at 100% relative humidity, while maintaining sample-to-sample cycle times below 60 minutes. In particular, the performance criteria were met for very volatile C2hydrocarbons, oxygenated polar VOCs such as formaldehyde, acetaldehyde, acrolein and ethanol, as well as less volatile air toxics such as naphthalene.