Markes expands the scope of its award-winning Centri platform
4 March 2020
Markes International Ltd has extended its award-winning Centri® automated sample extraction and enrichment platform to include additional functionality and the ability to increase or decrease the level of automation. The innovative, high-performance modular Centri platform can now be configured in a more user-defined way than ever before and makes trap-enabled preconcentration, extraction and enrichment available to a wider range of laboratories.
Innovation at the heart of Centri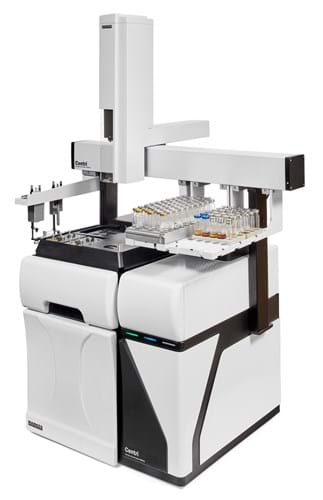 Centri is ideal for extracting very-volatile, volatile and semi-volatile organic compounds at ppt to percent levels from samples for GC–MS analysis. Its remarkable flexibility will benefit any GC–MS laboratory, and it offers improvements in detection limits, throughput and amount of information obtained from each sample. The key enabling innovation at the heart of Centri is Markes' unique cryogen-free focusing technology that optimises analytical sensitivity and enhances the quality of information obtained from GC–MS.
The features of the original platform released in 2018 include:
Fully automated sorptive extraction workflow (including sampling, washing and drying of sampled probes, and desorption).
Sample enrichment, which increases the sensitivity and number of compounds detected.
Multiple modes in a single analytical sequence, improving instrument utilisation.
Re-collection onto thermal desorption tubes, which improves sample security.
Sample stacking, which enables enrichment from multiple samples, including mixed modes.
Simple and intuitive software that includes the option of using an overlap mode for all sample extraction and enrichment techniques. This optimises sample management, allowing for the extraction and enrichment of a sample while a previous sample is analysed, such that the subsequent sample is injected as soon as the GC is ready again. For techniques such as HiSorb™ (high-capacity sorptive extraction), overlap mode enables multiple samples to be prepared ahead of time ('prep-ahead') while a previous sample is analysed, significantly increasing productivity in the laboratory.
New capabilities
The new capabilities build on the original platform, making it even more powerful, with the addition of:
Smart microchip technology for headspace, SPME and SPME-Arrow sampling accessories. The chip automatically loads parameters such as syringe/fiber type, provides details on minimum and maximum recommended conditioning temperatures and records start of usage when installed, providing improved reliability, traceability and ease-of-use.
Liquid handling (e.g. addition of derivatisation reagent or internal standard) enables automated, unattended sample preparation, increasing productivity and saving time.
Support for trap-enabled SPME-Arrow, expanding the portfolio of extraction and enrichment techniques available, improving versatility further.
Automated GC inlet injection – replacing this normally manual step frees up the user's time, increasing productivity in the laboratory.
Intelligent diagnostics for automated system self-checking, including valve operation and leak isolation along the flow path. The ability to identify where a leak is enables rapid corrective action, in some cases without the need for an engineer to be available, decreasing instrument downtime.
A truly flexible platform
For the ultimate in performance and flexibility, the Centri is now also available with a 160 cm rail, increasing extraction and enrichment possibilities even further – with a longer rail come the additional benefits of greater capacity and configuration combinations.
For laboratories that require different levels of automation – ranging from a manual to a fully automated platform – Centri can be tailored to suit every need, each delivering the same high performance. The platform can also be upgraded when required to include further automation using Markes or select third-party robotics, thus the future-proofing of Centri is ensured.
Andy Hardwick, Commercial Director of Markes' parent company, Schauenburg Analytics Ltd, said "We believe that building on the already successful Centri enables a wider range of scientists to access its unique power. Centri has proved itself in a wide range of applications, being at the forefront of research and at the heart of many high-throughput laboratories' workflows. The new additions add to its flexibility and power. When combined with SepSolve Analytics' INSIGHT® GC×GC, BenchTOF™ and ChromSpace® data processing technologies, we believe that Centri can offer the ultimate in discovery platforms."
The company will be featuring the new range at Pittcon 2020 and Analytica Germany 2020. In the meantime, more information can be obtained by emailing enquiries@markes.com
Further information on Centri can be found here.
Notes for editors
Schauenburg Analytics Ltd is part of the Schauenburg International Group, and provides a forum that allows innovators in industry and academia to benefit from its extensive product development, marketing and sales expertise for a wide range of analytical instrumentation. The 'knowledge partnerships' developed under Schauenburg Analytics benefit all stakeholders, by enabling the rapid commercialisation of new products and the development of new market opportunities for existing products. This success is underpinned by its two leading brands, Markes International and SepSolve Analytical, each with a distinct product and customer focus. Website: www.schauenburganalytics.com.
Markes International is a specialist manufacturer of instrumentation for detection of trace-level volatile and semi-volatile organic compounds (VOCs and SVOCs). Markes has a well-deserved reputation for its application expertise in the field of thermal desorption, supplying a comprehensive range of instruments, sampling equipment and consumables that enhance the analytical capability of GC–MS. Markes' systems are sold to a wide range of research, government and industrial/service laboratory customers operating in sectors including environmental monitoring, homeland security and forensic investigations, petrochemical analysis, materials testing, and flavour & fragrance profiling. Website: markes.com.
SepSolve Analytical is dedicated to helping analysts select the best equipment for GC and GC×GC analysis. The wide range of products offered include SepSolve's INSIGHT™ flow modulator for GC×GC, and sample preparation equipment, robotic autosamplers, thermal desorbers and mass spectrometers with novel soft EI capability from leading manufacturers including GL Sciences, CTC Analytics and Markes International. SepSolve's application experience is extensive, placing it in an excellent position to advise on getting the best from an analysis – in everything from environmental monitoring to petrochemical analysis and food aroma profiling. Website: www.sepsolve.com.
Centri®, HiSorb™, BenchTOF™ and ChromSpace® are trademarks of Markes International Ltd
INSIGHT® is a registered trademark of SepSolve Analytical Ltd