Markes International launches next-generation passive sampler for VOC analysis
Markes International launches next-generation passive sampler for VOC analysis
Markes International Ltd has launched a next-generation passive sampler that combines all the benefits of radial and axial VOC samplers, in an evolution of design that the company says will ultimately make large scale air monitoring studies easier to run and more affordable: the Pocket Diffuser Sampler ('POD' Sampler).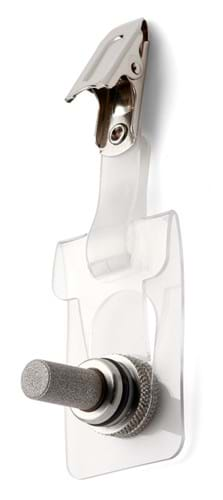 "Our new POD sampler is the first of the next generation of diffusive samplers for air monitoring. Bringing analysts better sensitivity, higher accuracy and faster response times, whilst also improving on ease of use and re-usability compared to other passive samplers" said Markes International's Environmental Air Market Development Manager, Hannah Calder.
"Re-usability is a key consideration as many sectors strive to be more environmentally friendly in their practices. The POD cartridges can be reconditioned and reused over 100 times – that's around five times more than traditional radial samplers – and the sampler itself can be used indefinitely. This also equates to lower cost per use over the lifetime of the sampler, which ultimately makes large scale outdoor and indoor air monitoring studies more affordable for governments, industry and researchers alike.
"Compared to existing solvent extraction samplers, the POD Sampler is inherently a greener solution, removing the health and safety and environmental issues surrounding solvent use, as well as offering much better sensitivity and less laborious sample preparation."
Markes International brought the new POD Sampler to market in partnership with pioneers in radial sampling at the European Commission's Joint Research Centre (JRC) in Ispra, Italy, the European reference laboratory for air pollution. Pascual Pérez Ballesta, Scientific Officer at JRC Ispra, commented: "Through comparison of different diffusive sampler designs, optimization of the PODs radius ratio reduces amount of adsorbent material required and results in the improved sensitivity, accuracy, response time and blanks levels seen when using the sampler. The POD Sampler has been tested under laboratory and field conditions for the measurements of VOCs in ambient air. Field tests, conducted in parallel with independent quality-controlled canister sampling, confirmed the ease of use and quality of VOC measurements with the POD Sampler."
The POD Sampler is compatible with any commercial thermal desorption system and is part of Markes' broader range of air sampling technologies, all of which have been developed by the company on the back of its two-plus decades of expertise in passive sampling and all associated standard methods.
Calder summarised: "We are always working in tandem with analysts, so we know our new POD Sampler will be of immense value to those who need to undertake extensive air monitoring for environmental air study and management. Equally, its small size, robustness, versatility and re-usability make it a practical and cost-effective option for personal VOC-exposure testing.  From tracking short-term pollution events to being used in large scale studies, the POD enables analysts to discover more about the atmospheres they are studying. Plus, because of its high reusability, it delivers enviable economies of scale. We believe it will have a huge impact on the efficiency and affordability of air monitoring, both in- and outdoors."
More information is available at: https://markes.com/shop/products/pod-sampler