Markes International's instruments used in Canada's first human decomposition laboratory
26 April 2021
Sampling and analysis systems designed and manufactured by award-winning analytical instrument specialist Markes International are being used by Canada's very first forensic 'decomposition lab' in Trois-Rivières, Quebec.
The REST team (Research in Experimental and Social Thanatology) in Quebec are using several of Markes' ACTI-VOC™ sampling kits and one of the company's TD100-xr™ automated thermal desorption('TD') analysis instruments to study human decomposition.
The ACTI-VOC is a robust low-flow pump for sampling vapour-phase organic compounds (VOCs) onto sorbent tubes prior to subsequent analysis by thermal desorption (TD). The REST team use their ACTI-VOCs to capture samples of the VOCs emitted by decaying remains at various stages of decomposition.
The collected VOC samples are then passed through Markes' TD100-xr™, an automated TD system for the rapid and unattended processing of up to 100 sorbent tubes in a single sequence. The TD100-xr is one of Markes' best-selling products and contains the company's patented 'focusing trap' technology, which provides superlative sample sensitivity and data quality.
The Quebec REST team received their first cadavers in August last year, all altruistic Quebecers who wanted to help fix a serious problem for police in northern latitudes around the world.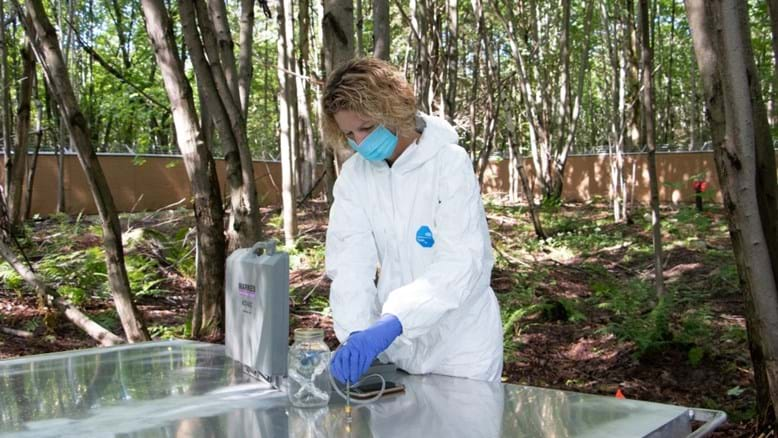 REST's director, Dr Shari Forbes, explained: "Human decomposition has been studied for decades, but most of the research has been done in the United Sates. There are only three research centres outside of the US, including REST.
"The differences in climate between most of the US facilities and ours, and others like us – Norway and Sweden, for example – mean that the decomposition process is very different. 
"Quebec routinely reaches both 40 below and 40 above within a single year. How bodies decompose under those climactic swings is a relative mystery, as is the effect of extreme cold."
The research team's goal is to improve scientists' ability to determine the time of death of human bodies that are discovered outdoors in Quebec and areas with similar climates, as well as to hone the ability to search for and identify them.
"Improving the ability to find human remains is the main aim of the research that we use Markes' equipment for," said Forbes. "We collect decomposition VOCs to try and understand how cadaver-detection dogs search for human remains and how we can increase their efficiency."
Matt Edwards, Markes' business development manager for the Americas, said: "We are in regular contact with Shari and her team, and are very pleased that our equipment is being used to help gather such fundamentally important data for the forensic and law enforcement world. It's very edifying to know that Markes' products are playing their part in unlocking the mysteries of decomposition in extreme climes. Dr Forbes and her team will be helping police in snowy, sub-zero areas for years to come."
_________________________________________________________________________________
Photo:
Dr Shari Forbes works at the Becancour REST facility (credit: Josée Beaulieu, UQTR)