Markes International and SepSolve Analytical play pivotal part in Delhi's new 'Supersite' air quality station
9 March 2023
Delhi has become the first city in India able to obtain real-time source apportionment of air pollution, thanks to a 'Supersite' air quality station built with input and instrumentation from analytical experts at Markes International and its sister company, and SepSolve Analytical.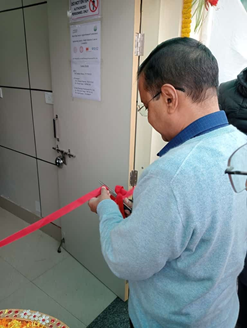 Chief Minister of Delhi, Mr. Arvind Kejriwal, cutting the ribbon Described by Delhi's Chief Minister, Arvind Kejriwal, as an "important leap" in the state's fight against pollution, the Supersite is equipped with a comprehensive setup of sampling and analytical instruments, including a 24/7 automated on-line TD air monitoring system from Markes and a time-of-flight mass spectrometer from SepSolve.
Critical scientific study commissioned by Delhi government
The Supersite was officially opened on Monday 31 January by Kejriwal as part of a critical scientific study commissioned by the Delhi government to identify sources of air pollution in the city and establish a reliable air quality forecasting system.
The study is being led by the Indian Institute of Technology (IIT) Kanpur, with IIT Delhi and The Energy and Resources Institute (TERI) both involved in providing insights and technical assistance, while Airshed Planning Professionals Pvt. Ltd. will be responsible for running and maintaining the supersite and the Delhi Pollution Control Committee (DPCC) is the nodal body for the project.
Air pollution in India – PM2.5 particles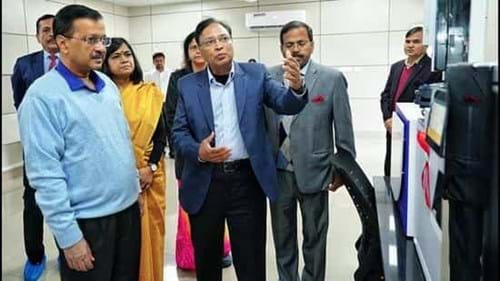 Poor air quality in India has long been recognised as a threat to human health1, with the country suffering extraordinarily high levels of volatile and semi-volatile organic compounds, herein referred to as (S)VOCs, and airborne particulate matter (PM). PM2.5 refers to ultra-fine particles and liquid droplets suspended in air that can embed deep in human lungs and cause a variety of lung and heart diseases. PM2.5 is the primary pollutant in Delhi's air, according to its Central Pollution Control Board.
PM2.5 particles in the air over Indian urban centres are regularly at a dangerously high concentration of over 400 µg/m3, which is extremely hazardous to health. As a comparison, PM2.5 levels in Cardiff (UK), the capital city of Wales and close to Markes International headquarters and factory, are 50 µg/m3 or below.
As part of its effort to tackle air pollution, India has a cross-country network of environmental monitoring stations, mainly for sensor-based detection and measurement of PM2.5 particles.
Dual ability to measure PM and VOCs in air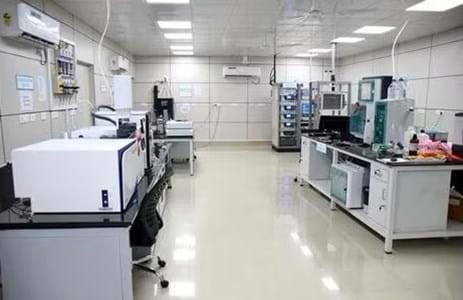 There are many sensor-based systems available which can measure the quantity of PM in the air, but few that can easily automate the measurement of (S)VOCs adsorbed onto those particles (also known as 'secondary organic aerosol'). The accurate identification of this secondary organic aerosol can enable the source of PM2.5 pollution to be traced.
The Markes and SepSolve system in Delhi continuously monitors the pollution as well as PM secondary organic aerosol levels from the roof of the building via tubing. The lab works 24/7 without manual interruption, analysing air every hour and sending data to the lab's Real-Time Advanced Air Source Management Network (R-AASMAN) software. The software then maps and identifies factors responsible for the increase of air pollution.
Importance of real-time pollution source identification
Explaining the need for gathering data in real-time, Kejriwal said at the inauguration (as reported by the Hindustan Times): "The key reason for pollution on Monday may differ from the reason on Tuesday. Until we calculate the impact made by a source of pollution in real-time, we cannot have an effective policy.
"Now [with the Supersite fully operational] we will be able to determine pollution sources on an hourly basis and forecast hourly air quality data for the next three days. With this, we will find how much of the pollution is caused by vehicles, industries and biomass burning and make anti-pollution strategies accordingly."
System composition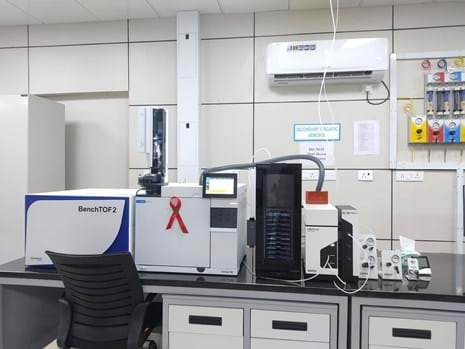 The system installed at the Delhi Supersite consists of an automated Markes TD system – UNITY–ULTRA–Air Server-xr™ coupled with a SepSolve BenchTOF2™ time-of-flight mass spectrometer.
The Delhi Supersite system which Markes and SepSolve have helped develop is unique in that it operates, sequentially, in two ways; to sample volatile and semi-volatile organic compounds (VOCs and SVOCs) directly from the outside air and to sample those adsorbed onto PM2.5 particles. Outside air is pulled in from the roof of the Supersite and sampled directly using Markes' UNITY-Air Server-xr, which is coupled with a GC and SepSolve's BenchTOF2™ time-of-flight mass spectrometer, to give sensitive, non-target screening of (S)VOCs directly from the air.
The air stream from the roof is also sampled onto TD tubes to identify the (S)VOCs that are adsorbed onto PM2.5 particulates. The incoming air is dried and sampled directly onto industry-standard size TD tubes in the ULTRA-xr unit, which has been specifically modified by Markes for this application (patent pending). The sampling tubes contain a filter (also patent pending), rather than the usual sorbent, to trap the PM2.5 particles. They are then thermally desorbed and analysed by GC–TOF MS (SepSolve's BenchTOF2).
An international collaboration
Terry Buckland, MEAI Business Development Manager of Markes' and SepSolve's parent company, Schauenburg Analytics Ltd, said: "Building the Supersite was a huge team effort – we've been part of it since May last year. It involved input from Markes' thermal desorption and sampling technologies teams, as well as the BenchTOF MS and system integration team from SepSolve Analytical. We used our existing instruments to literally build a new system for this project.
"The support of our Indian distributor – AVV Technologies – was invaluable. They were by our side and helping us at each stage. Dr Dhirendra Singh from Airshed Planning also played a vital role in coordinating this collaborative effort, bringing many years' worth of expertise in providing solutions to regulatory authorities, government, and research institutes in the field of air pollution. Finally, we're also very grateful for the leadership of Prof Mukesh Sharma from the Indian Institute of Technology (IIT) Kanpur".
Alun Cole, Schauenburg Analytics Ltd Founding Director, commented: "We're incredibly proud of the cross-company collaboration which made this project such a success. It stands as testament to how the expertise of Markes and SepSolve can be powerfully combined to give an unmatched level of application and technical support to our customers.
"Our teams are continuing to support and report into the project lead, Professor Sharma from IIT Kanpur, and we are looking forward to seeing the impact of this ground-breaking research."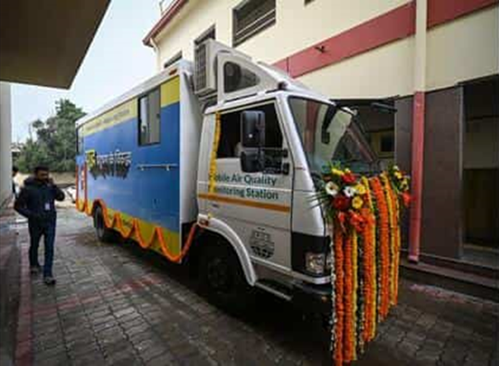 # # #
Mukhopadhyay, K.; Forssell, O. An empirical investigation of air pollution from fossil fuel combustion and its impact on health in India during 1973–1974 to 1996–1997. Ecol. Econ. 2005, 55, 235–250. https://www.sciencedirect.com/science/article/abs/pii/S092180090400415X?via%3Dihub
Photographs
Image 1: Chief Minister of Delhi, Mr. Arvind Kejriwal, cutting the ribbon
Image 2: Arvind Kejriwal being shown around the new facility by Prof Mukesh Sharma, Indian Institute of Technology (IIT) Kanpur, SOURCE Twitter-ANI
Image 3: BenchTOF2 MS, Agilent 8890 GC, ULTRA–UNITY–Air Server-xr
Image 4: Delhi Supersite (SOURCE: Twitter/ANI)
Image 5: Mobile air quality monitoring station (SOURCE: Sanchit Khanna/HT Photo)