Transfer line insert
The uncoated deactivated fused silica transfer line insert is used to connect a Markes' TD instrument to a GC column, and allows rapid sample transfer from the TD focusing trap to the head of the GC capillary column for subsequent analysis.
User-replaceable: 'How-to' video available with step-by-step instructions
Should be checked and replaced regularly as part of a routine maintenance plan
Included in relevant routine maintenance kits (RMKs), which contain sufficient spares for approximately 12 months of use, for an average user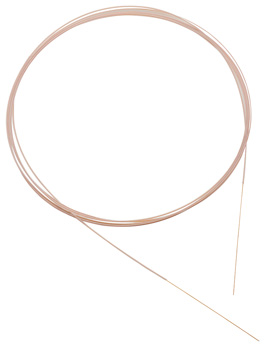 Transfer line insert
Fused silica (0.25 mm ID) and PTFE sleeve- 2 m
Overview
The 2 m deactivated fused silica transfer line insert provided by Markes has a 0.25 mm i.d. To rapidly connect to any standard GC capillary column, a single-use quick-seal column connector (QSCC) is provided. The glass push-fit QSCC allows easy installation and makes it easy to see the connection within.
SilTite mini-unions are an alternative to QSCCs. They are available in varying sizes to suit different column inner diameters, which allows a more consistent seal using nut-and-ferrule connections. SilTite mini-unions are recommended for instrument setups with an MS detector, where carrier gas cleanliness and reduced air content need to be lower to achieve lower baselines and protect the MS components.
To ensure an effective seal is achieved when using either the QSCC or mini-unions, both the transfer line insert and GC column should have a clean square-cut end. Using a ceramic-wafer column-cutting tool for this ensures burr-free square ends and reliable capillary–capillary connections.
Part numbers:
SERUTE-5099