Optimised hydrogen fuel impurity analysis: identification, measurement and characterisation of volatile organic compounds by TD–GC–MS/SCD
Application Note 165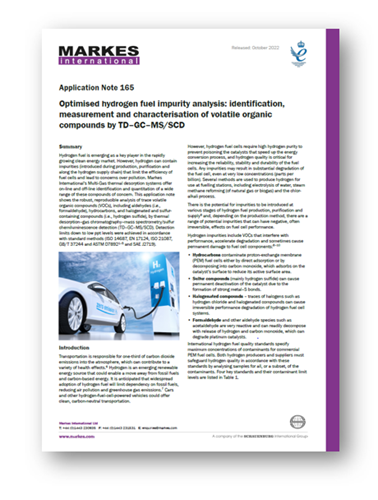 Hydrogen fuel is emerging as a key player in the rapidly growing clean energy market. However, hydrogen can contain impurities (introduced during production, purification and along the hydrogen supply chain) that limit the efficiency of fuel cells and lead to concerns over pollution.
Markes International's Multi-Gas thermal desorption systems offer on-line and off-line identification and quantitation of a wide range of these compounds of concern. This application note shows the robust, reproducible analysis of trace volatile organic compounds (VOCs), including aldehydes (i.e., formaldehyde), hydrocarbons, and halogenated and sulfur-containing compounds (i.e., hydrogen sulfide), by thermal desorption–gas chromatography–mass spectrometry/sulfur chemiluminescence detection (TD–GC–MS/SCD).
Detection limits down to low ppt levels were achieved in accordance with standard methods (ISO 14687, EN 17124, ISO 21087, GB/T 37244, ASTM D7892 and SAE J2719).
Please complete the form below to download the full application note