Triple winner – Markes International's Centri wins third prestigious scientific award
24 November 2020
Triple winner – Markes International's Centri wins third prestigious scientific award
Markes International learned this week that its automated sample preparation system, Centri®, has won a Wiley Analytical Science Award, in the category of 'separation, lab automation and equipment.'
Centri is a multi-mode extraction and enrichment platform for gas chromatography-mass spectrometry (GC–MS). Its stand-out feature is its cryogen-free focusing trap technology – created and patented by Markes International. This trapping process effects multi-step enrichment for samples, meaning enhanced analytical sensitivity, allowing chemists to discover more. The automated platform also provides a higher throughput of samples allowing analysts to deliver more.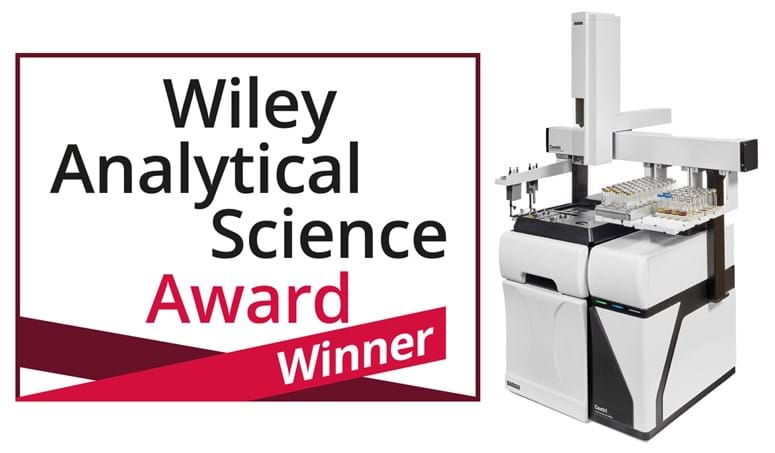 Wiley Analytical Science is part of the 200-year-old Wiley Network group, and the winners were revealed during its Annual Conference on Tuesday 24 November. Other winners in the same category were Eppendorf AG from Germany and MOBILion Systems, Inc. from the USA. The overall winner was DWK Life Sciences GmbH from Germany.
Accepting the award at the online award ceremony, Markes' product marketing manager for its 'extraction and enrichment' range, Rachael Szafnauer, said: "We are absolutely delighted that Centri has won this award. It truly is a breakthrough product in the analytical science world. It's powered by best-in-class robotic automation, and because it uses our patented focusing trap technology, it guarantees to optimise analytical sensitivity and enhance the quality of information obtained from GC–MS, no matter what brand of GC–MS is being used."
Achieving the Wiley award makes the Centri a triple winner in the two years since its launch in 2018. In December of that year, it was acclaimed as a 'stroke of genius' by the Analytical Scientist Innovation Awards (TASIAs), and last year it was crowned 'Top Product' at the Laborexpo conference.
In February this year, Markes revealed that it had expanded the scope of Centri by adding five new features. These were support for trap-enabled SPME-Arrow; smart microchip technology for headspace, SPME and SPME-Arrow sampling accessories (the chip automatically loads parameters such as syringe/fiber type, provides details on minimum and maximum recommended conditioning temperatures and records start of usage); liquid handling (e.g. addition of derivatisation reagent or internal standard); automated GC inlet injection; and intelligent diagnostics for automated system self-checking (e.g. for leaks along the flow path). For further details, please see the press release from 4 March 2020.
Andy Hardwick, Commercial Director of Markes' parent company, Schauenburg Analytics Ltd., said: "Centri has proved itself time and again, and is at the forefront of research in laboratories all over the world. We couldn't be prouder that it has won another award and are looking forward to seeing what the future holds in terms of its ongoing development."