Markes International wins Innovation Award
16 December 2021
Markes International named on The Analytical Scientist's 2021 Innovation Awards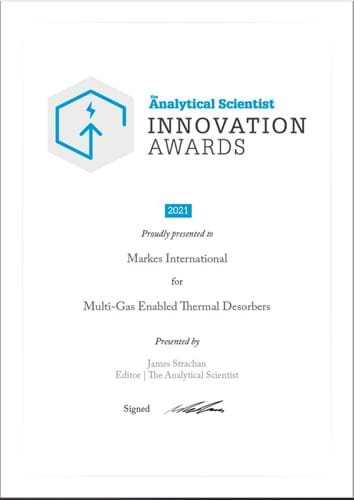 Markes International's Multi-Gas enabled thermal desorption instruments have been selected for the prestigious Innovation Awards from The Analytical Scientist, a leading publication in the field. The Awards highlight the top technologies released over the course of the year, which could have a significant impact on analytical science.
Multi-Gas is one of only fifteen technologies named on the Innovation Awards list for 2021.
The Analytical Scientist Editors launched the Innovation Awards in 2013 to acknowledge and shine the spotlight on the latest and most impactful advancements making waves in the analytical science field – and beyond. The technologies are nominated by readers and the annual awards have proved to be one of the most anticipated issues among readers. In addition, companies now recognize the Awards as a bellwether of new and important advances in the analytical sciences.
James Strachan, Editor of The Analytical Scientist says, "The technologies featured in this year's Innovation Awards promise greater sensitivity, resolution, flexibility, and speed – with a broad range of possible applications; others are more targeted, with the potential to create new opportunities in cancer research, environmental monitoring, biopharmaceutical development, 'omics research, and more; some take innovations from other fields and put them to good use; and a few are ground-breaking. They certainly paint an exciting picture of the future of analytical science."
Moving from helium to hydrogen for TD makes economic sense, with helium prices increasing rapidly. Many labs who have become frustrated with helium availability will find this product to their liking.
See The Analytical Scientist 2021 Innovation Award list here.