Connectors for sorbent tubes
A union is used to connect sorbent tubes in series, allowing breakthrough testing and/or pumped sampling onto two incompatible sorbents simultaneously. This sampling approach eliminates the risk of higher-boiling analytes migrating to stronger sorbents during sample storage, which can cause irreversible damage.
Protects strong sorbents during pumped sampling without the need for a multi-bed tube
Helps identify breakthrough, enabling subsequent optimisation of the sampling method
Allows independent analysis and conditioning of sorbents under optimised conditions
Allows sampling of VVOCs without compromising VOC or TVOC measurements
Suits industry-standard tubes (6.35 mm o.d.). By swapping the PTFE ferrule, it can also be used with 6 mm o.d. tubes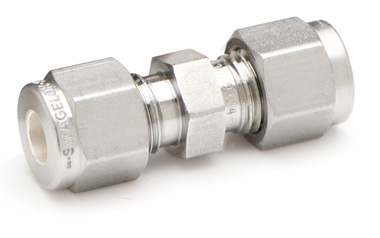 Union- stainless steel
1/4" with PTFE ferrule- 10 pack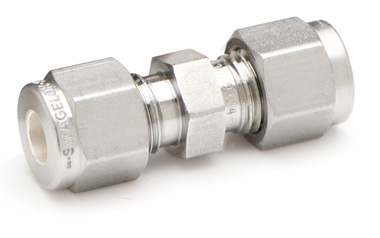 Union- stainless steel
1/4" with PTFE ferrule- pack of 100
Overview
The union for connecting sorbent tubes in series is made of stainless steel and houses two PTFE ferrules, one for each side.
The sorbent tube containing the weaker sorbent should be positioned in front with the sampling end of the tube open to the environment (for passive sampling, use a diffusion cap) and the non-sampling end attached to the union. On the opposing side of the union should sit the sampling end of the sorbent tube containing the stronger sorbent. For passive sampling, the non-sampling end should be capped with a long-term storage cap, while for pumped sampling it should be attached to the pump inlet.
Part numbers:
C-UNS10 - C-UNS100