TT24-7
Advanced thermal desorber for uninterrupted monitoring of trace chemical vapours
TT24-7™ is a thermal desorption unit for continuous near-real-time (NRT) monitoring of VOCs and VVOCs in air or gas. TT24-7 ensures 100% data capture by using a twin-trapping design that can accommodate a wide range of sampling flow rates, and operates completely cryogen-free. It's an ideal TD system for those needing to continuously monitor air or gas streams for trace-level organic compounds by GC, such as chemical warfare agents. Importantly, its rapid response to changes in airborne concentrations allows the risk of exposure to hazardous chemicals to be minimised.
Unique advantages of TT24-7
No blind spots – The use of two focusing traps working in tandem ensures 100% data capture.
Trace-level detection – Using a wide range of sampling flows (up to 800 mL/min) and quantitative trapping, TT24-7 delivers unparalleled sensitivity.
Highly time-resolved data – Used in conjunction with fast GC cycle times, TT24-7 provides results in near-real-time.
Sample security – TT24-7 allows samples to be split and re-collected onto sorbent tubes, for backup or re-analysis.
Cost saving – The electrically-cooled focusing traps eliminates the expense and inconvenience of liquid cryogenic cooling and removes the risk of ice blockages thus maximising uptime.
Versatility – Cryogen-free operation and a small footprint makes TT24-7 suitable for static and mobile laboratories.
Wide analyte range – Inert, optimised flow paths allow quantitative recovery of a wide range of analytes (C2–C40) compounds and reactive species.
Reliable speciation – Efficient desorption means no cross-contamination and improved chromatographic resolution, minimising false positives.
Easy laboratory integration – TT24-7  is compatible with GC and GC–MS from all major manufacturers, minimising the upfront investment required to investigate new TD markets for your lab.
Reliability – option for unsurpassed water management from Dry-Focus3™ (three-stage focusing) incorporated in Kori-xr™, achieve simultaneous analysis of all VOCs including polar, non-polar and monoterpenes in humid air streams, without using liquid cryogen.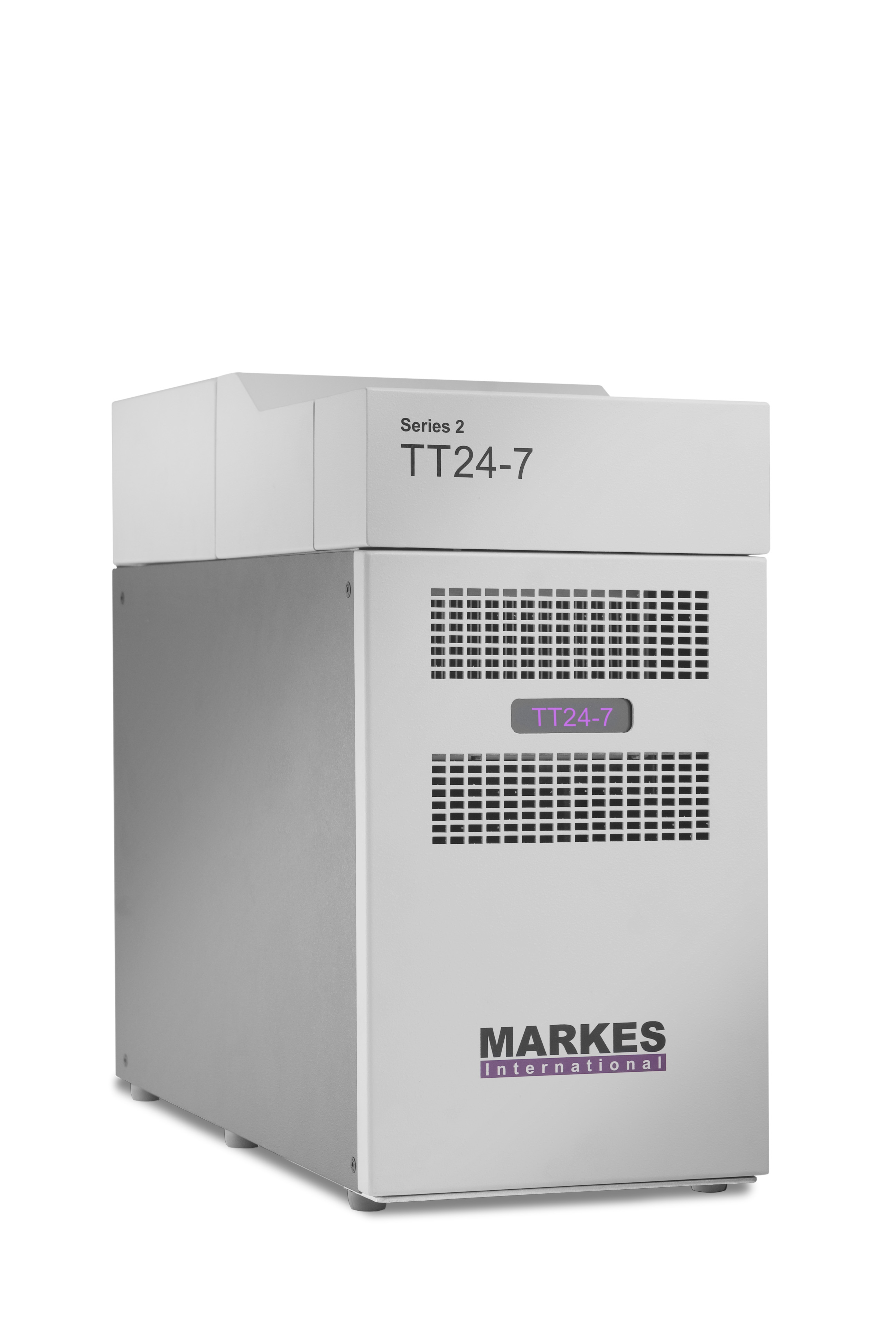 Download product brochure and technical specification
TT24-7