The POD Sampler – a next-generation passive sampler for VOCs
6 April 2021
In our previous blog – Passive sampling and its pivotal role in greener sampling of VOCs – we explored how passive sampling (diffusive sampling) is an easy-to-use, sensitive and eco-friendly approach to monitoring VOCs, allowing analysis without the waste and safety issues associated with solvent sampling.
Radial and axial passive samplers have been adopted widely for both environmental and workplace monitoring thanks to benefits such as easy deployment (without the need for a power supply or pump), their lightweight design and the fact they are unobtrusive. On top of this, they are a cost-effective solution for a variety of monitoring studies, especially those requiring simultaneous sampling at multiple locations.
Now, a new sampler that combines the stability of axial diffusive samplers with the fast uptake rates of radial diffusive samplers in an elegant yet robust design has been developed. This blog gives an insight into the development and advantages of this next-generation sampler and explains how you can find out more about using it in your analyses.
Design of the POD
The POD (POcket Diffusive) Sampler (Figure 1) is a compact and versatile diffusive sampler for VOC monitoring and subsequent analysis by thermal desorption.

Figure 1: The POD Sampler and its components.
Brought to market in partnership with pioneers in radial sampling at the European Reference Laboratory for Air Pollution (the European Commission's Joint Research Centre (JRC) in Ispra, Italy), the sampler's unique design results in a number of performance benefits:
Stable and fast uptake rates enabling a wide range of sampling times, from hours to weeks, in varying environmental conditions.
Better sensitivity and enhanced reproducibility so that monitoring times can be reduced and more reliable data will be obtained.
Improved sampling workflows through use of the sampler's cover, which enables greater precision in sampling start and stop times and makes event sampling easy to set up and implement.
A robust sorbent cartridge that is compatible with all commercial thermal desorption analysis systems.
Pascual Pérez Ballesta, Scientific Officer at European Commission, Joint Research Centre explains:
Through comparison of different diffusive sampler designs, optimisation of the POD's radius ratio reduces the amount of adsorbent material required and results in the improved sensitivity, accuracy response time and blank levels seen when using the sampler. The POD Sampler has been validated under laboratory and field conditions for the measurements of VOCs in ambient air. Field tests, conducted in parallel with independent quality-controlled canister sampling, confirmed the ease of use and quality of VOC measurements with the POD Sampler.
Passive sampling in five easy steps with the POD Sampler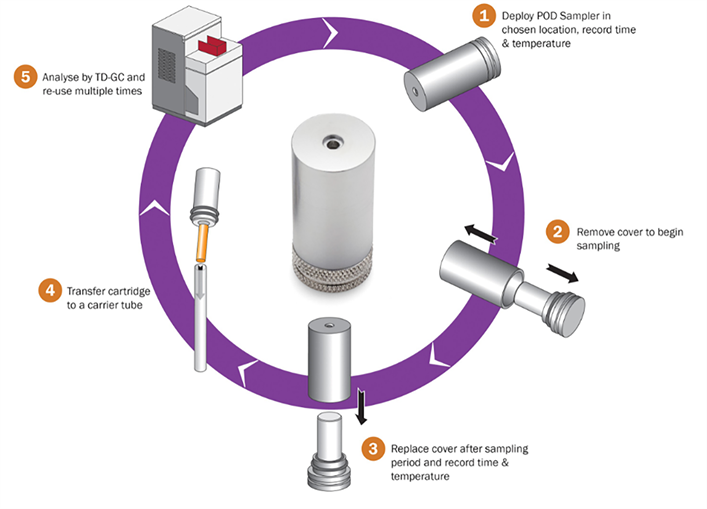 Figure 2: Passive sampling in five easy steps with the POD Sampler.
At the development stage, robustness and ease of use in the field and lab (Figure 2) were key considerations. The resulting product is easy to deploy indoors, outdoors and in industrial environments as well as for personal exposure monitoring. The POD Sampler is compatible with quantitative sampling of low-level VOCs (e.g., BTEX) in the boiling point range C4–C9 and as the POD can be cleaned through re-conditioning for use multiple times, there is a lower cost per use over time. Finally, with the POD Sampler, the effects of environmental variables, such as wind and temperature, on sampling rates are reduced compared to other passive samplers. This means that whilst wind and temperature should be considered when designing a study set-up, they needn't be such a concern for analysts.
For a deeper dive into the story behind the POD Sampler, join our Separation Science webinar with me and Pascual Pérez Ballesta (European Commission, Joint Research Centre). We will also be talking about its use and answering questions from the audience.