PFAS sampling tubes – Markes launches new range of thermal desorption tubes
5 September 2022
Markes International has announced the launch of the world's first range of thermal desorption (TD) sorbent tubes that allow up to 500 L of ambient air to be sampled for subsequent analysis and detection of per- or polyfluorinated alkyl substances (PFAS). PFAS TD tubes currently on the market – both from Markes International and other suppliers – only allow 300 L of air to be sampled.
With higher volumes of air available for analysis, a wider range of PFAS compounds can be identified, and analysts are able to reach low pg/m3 detection limits for their PFAS in ambient air analysis – levels of which have only been available to date via solvent techniques as opposed to TD. Analysts using TD instead of solvent extraction can remove potential PFAS sources in the sample prep routine (solvents and glassware) that may give inaccurate data. Also, no sample preparation is needed with TD, which saves a considerable amount of time.
The new PFAS Extended volume tubes from Markes also offer an untargeted approach, i.e., the analyst can collect and measure PFAS alongside other VOCs of interest.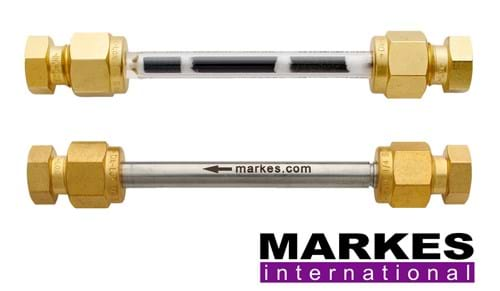 PFAS are a group of over 4700 industrial chemicals used since the 1950s in the manufacture of everyday products including food packaging, toiletries, non-stick cookware, clothing and carpets. They are called 'forever chemicals' because of their extreme persistence in the environment and are the subject of much study because of the potential harm they cause to humans and animals.
As more is understood about the dangers of PFAS compounds, TD with gas chromatography–mass spectrometry (GC–MS) has grown in popularity as a technique for analysing PFAS compounds in air because of the high degree of accuracy and sensitivity afforded, the faster sample preparation, and the ability to monitor volatile species that cannot be covered using other methodologies. The technique has even been adopted by the US EPA (Environmental Protection Agency) for the analysis of volatile PFAS.
Hannah Calder, Environmental Air – Market Development Manager, Markes International, said: "Our experiments have demonstrated excellent method performance (linearity, repeatability, storage stability) across a range of compounds tested, including low pg/m3 method detection limits. The tubes, along with our wider thermal desorption capabilities, are of huge interest globally, in particular in North America where we are collaborating with government and industry to help tackle the challenges that PFAS sampling and analysis in air bring."
As well as being a world first, Markes' PFAS Extended volume sorbent tubes are compatible with all TD systems that use industry-standard-size (3.5″ × ¼″ o.d.) tubes.
For users of Markes' TD instruments, a PFAS-specific focusing trap is now available to complement these sorbent tubes.
# # #
More information in our online shop on PFAS tubes in stainless steel and glass.