Advice on sorbent selection, tube conditioning, tube storage and air sampling
Application Note 005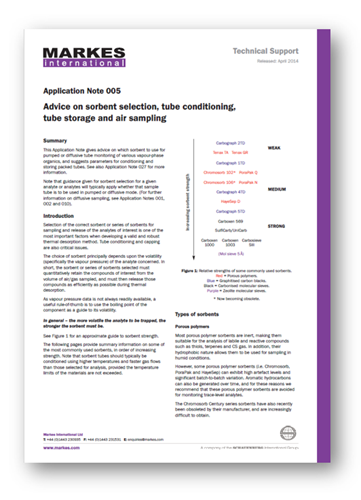 Selection of the correct sorbent or series of sorbents for sampling and release of the analytes of interest is one of the most important factors when developing a valid and robust thermal desorption method.
This application note gives advice on which sorbent to use for pumped or diffusive tube monitoring of various vapour-phase organics and suggests parameters for conditioning and storing packed tubes. See also Application Note 027 for more information.
Note that guidance given for sorbent selection for a given analyte or analytes will typically apply whether that sample tube is to be used in pumped or diffusive mode. For further information on diffusive sampling, see Application Notes 001, 002 and 010.
Please complete the form below to download the full application note