On-line process control of speciated organic chemicals in industrial gases at sub-ppb levels
Application Note 015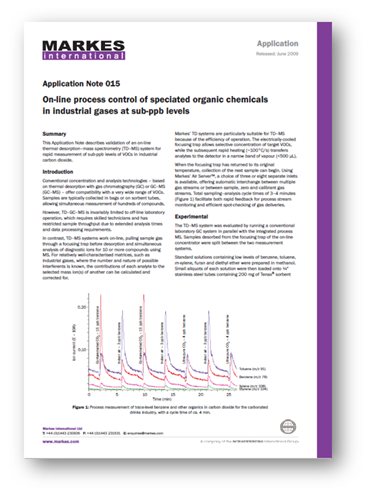 Conventional concentration and analysis technologies – based on thermal desorption with gas chromatography (GC) or GC–MS (GC–MS) – offer compatibility with a very wide range of VOCs. Samples are typically collected in bags or on sorbent tubes, allowing simultaneous measurement of hundreds of compounds.
However, TD–GC–MS is invariably limited to off-line laboratory operation, which requires skilled technicians and has restricted sample throughput due to extended analysis times and data processing requirements.
This application note describes validation of an on-line thermal desorption–mass spectrometry (TD–MS) system for rapid measurement of sub-ppb levels of VOCs in industrial carbon dioxide.
Please complete the form below to download the full application note