The performance of thermal desorption for the quantitative analysis of long-chain hydrocarbons
Application Note 136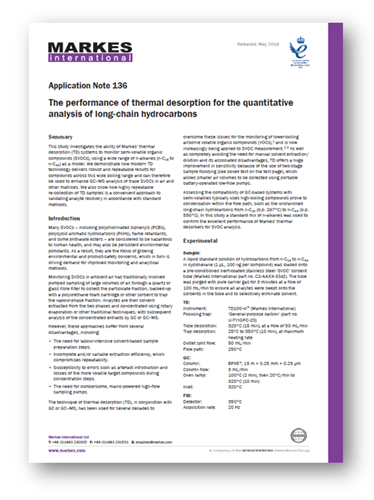 Many SVOCs – including polychlorinated biphenyls (PCBs), polycyclic aromatic hydrocarbons (PAHs), flame retardants, and some phthalate esters – are considered to be hazardous to human health, and may also be persistent environmental pollutants. They are the focus of growing environmental and product-safety concerns, which is driving demand for improved monitoring and analytical methods.
This application note investigates the ability of Markes' thermal desorption systems to monitor semi-volatile organic compounds, using a wide range of n-alkanes (n-C16 to n-C44) as a model.
We demonstrate how modern TD technology delivers robust and repeatable results for compounds across this wide boiling range and can be used to enhance GC–MS analysis of trace SVOCs in air and other matrices. 
Please complete the form below to download the full application note