Trace-level analysis of VOCs in a tomato product using headspace extraction with large volume preconcentration (LVP) and multi-step enrichment (MSE)
Application Note 270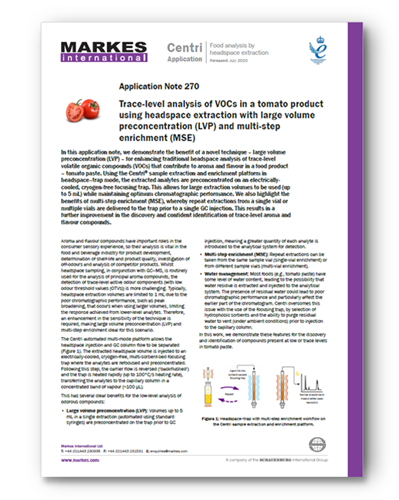 In this application note, we demonstrate a novel technique – large volume preconcentration (LVP) – for enhancing traditional headspace analysis of trace-level volatile organic compounds (VOCs) that contribute to aroma and flavour in tomato paste.
Using the Centri® sample extraction and enrichment platform in headspace–trap mode, the extracted analytes are preconcentrated on an electrically-cooled, cryogen-free focusing trap. This allows for large extraction volumes to be used (up to 5 mL) while maintaining optimum chromatographic performance.
We also highlight the benefits of multi-step enrichment (MSE), whereby repeat extractions from a single vial or multiple vials are delivered to the trap prior to a single GC injection.
Please complete the form below to download the full application note