Getting more out of thermal desorption
21 October, 2019
Data quality is paramount
The range of applications for thermal desorption continues to grow, with analysts around the world using this technique to sample vapour phase organic compounds in applications as diverse as monitoring of ambient air, sampling of volatiles found in whale breath, and analysis of 'new car smell'. To achieve this, laboratories invest in systems, supplies, training and maintenance at every stage – from sample collection and preparation through to analysis by TD–GC–MS. The quality of data ultimately generated is where the value can be seen – and the return on that investment. Factors impacting the quality of that data should therefore be carefully considered.
Data quality is underpinned by several well-established aspects of sampling and analysis. Key factors include tube desorption efficiency, tube cleanliness and sample integrity during transport & storage – not forgetting best practice instrument set up and maintenance. Even after decades in use misperceptions about thermal desorption persist. Common areas for misunderstanding include topics such as untargeted analysis, quantitation, re-collection, compatibility with semi-volatile or reactive compounds, and the assumption that liquid cryogenic cooling is required.
Calibration and validation
One of the more common misunderstandings relates to calibration and validation and use of the appropriate accessories. Calibration is fundamental to using your system to its full potential, supporting quantitative analysis, reproducibility and confidence in results. When calibrating any analytical equipment, it is important that the loading and analysis of standards closely represents the samples, which may contain only trace amounts of the compounds of interest. For this reason, tube-based thermal desorption (TD–GC) systems should be calibrated by loading standards onto conditioned sorbent tubes using precision equipment such as the Calibration Solution Loading Rig. Equally important are the processes for validation and quality assurance.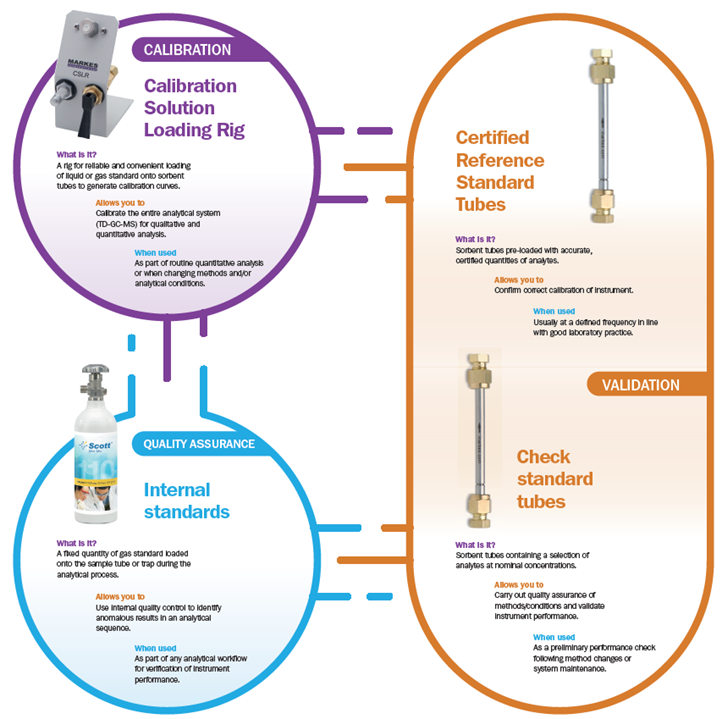 In order to maintain the quality of results from the entire analytical system you should consider:
Frequency of calibration. Calibrate when starting a new application, after any major system maintenance or if the instrument response drifts outside of pre-defined criteria (refer to EPA Method TO-17 for example). It is also advisable to run a reference standard from the mid-point of the calibration more regularly (e.g. every 10 samples) as a check on system performance.
Ongoing quality control (QC). Monitor the day-to-day consistency of the analytical system using reference samples or check standard tubes.
Use of internal standard. Identify any anomalies in the analytical data, or variation in system performance.
To learn more about these topics, join us for a Separation Science webinar, The insider's guide to thermal desorption: a walk-through sorbent tube sampling and analysis, taking you through:
Best practices for sampling and analysing samples and for calibration
Time-saving tips for method development and validation by thermal desorption
How the latest technology enhancements in thermal desorption could streamline your workflows.
The webinar is presented by Dr Diane Turner, Senior Consultant & Director, Anthias Consulting Limited and President-Elect of the Royal Society of Chemistry Analytical Division, and Dr Helen Martin, Thermal Desorption Product Marketing Manager, Markes International.