What is the baseline step near the beginning of my GC–MS run?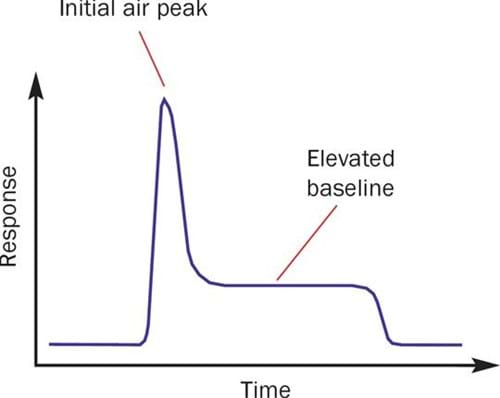 The elevated baseline seen near the start of a GC–MS run is a result of supplying the carrier gas to the GC column through the cold trap alone, which takes place during the trap desorption stage (during all other stages the carrier gas is supplied via a bypass line).
The elevated baseline is due to water, nitrogen, oxygen and carbon dioxide, and can be reduced by scanning from higher m/z values.
Importantly, any peaks eluting during this time will sit on top of the elevated baseline, and so integration and quantitation are unaffected. The only instance where integration could be affected is if a peak was to elute just as the step ends. This can be easily overcome by adjusting the length of the trap desorption time (e.g. by 0.2 minutes).
More information on the baseline 'step' can be found in Application Note 006.