Why are we still using solvent extraction for industrial hygiene monitoring? Advances in passive sampling using TD–GC–MS
First presented at Pittcon 2021
The poster entitled "Why are we still using solvent extraction for industrial hygiene monitoring? Advances in passive sampling using TD–GC–MS" was presented by Markes International at Pittcon, which was held on 8–12 March 2021 as a virtual conference.
An environmentally friendly approach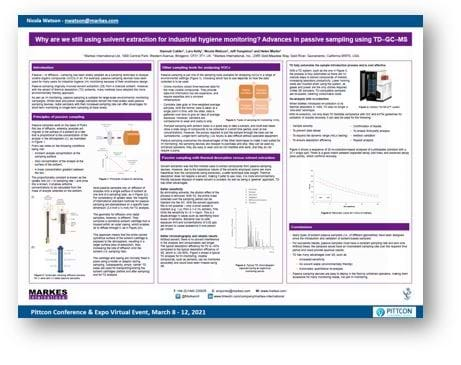 Passive – or diffusive – sampling has been widely adopted as a sampling technique to analyse volatile organic compounds in air. For example, passive sampling devices have been used for many years for industrial hygiene monitoring because of their unobtrusive design.
Passive sampling originally involved solvent extraction from a charcoal sorbent. However, with the advent of thermal desorption sorbents, many methods have adopted this more environmentally friendly approach.
This poster describes the principles of passive sampling and compares the advantages of passive sampling with thermal desorption compared to solvent extraction.
Please complete the form below to download the poster