Markes raises over £1,000 in a day for Welsh children's charities
23 December, 2019
Employees at Markes International Ltd (Llantrisant, UK) decided to put their annual December 'festive fun' day to good use by raising money for charity, and managed to pool an impressive £1,040 for Welsh children's charities LATCH and Make-A-Wish UK.
Make-A-Wish grants wishes to terminally and critically ill children, while LATCH supports children who are being treated by the Oncology Unit at the Children's Hospital for Wales. The charity funds ward-based support workers, plus it provides accommodation for sick children's families.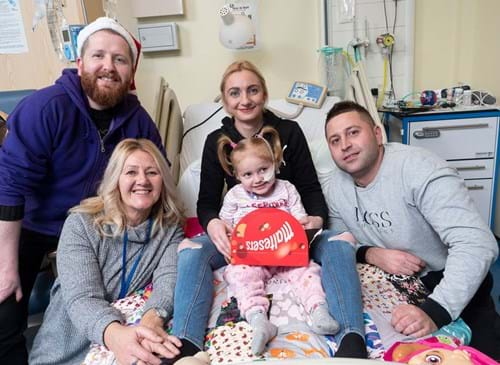 L. to r. Stephen Price (LATCH PR, Comms & Events Officer), Maria Leonard (Markes' HR Executive), six year-old cancer patient Skyela Jones and her mum and dad, at LATCH-supported Noah's Ark Children's Hospital in the University Hospital of Wales, Cardiff. (Photo credits: Tim Dickeson)
Fundraising activities

"We've always had an annual Christmas 'dress-down' day, but this year we wanted to make more out of it and give something back to the most vulnerable in our community," said Markes' Founding Director, Elizabeth Woolfenden. "Christmas must be an incredibly stressful, and in many cases a terribly sad time for critically ill children and their families, so we wanted to do whatever we could to help."
Markes' Llantristant staff committed the whole of Friday 13 December to fund-raising activities in-between doing their usual work, starting with factory volunteers setting up a cooking station and cooking bacon, sausage and vegetarian breakfast rolls which were sold at £1 each. Staff also held a Bake-Off Christmas cake competition, with entrants paying £1 to enter. Over 20 festive cakes, pies and cookies were baked, and once judging had taken place, all the cakes were sliced and sold.
For the dress-down element, anyone who wanted to dress up or wear a festive jumper for the day was allowed to do so for a £1 donation. "Never has Markes been quite so full of elves, Father Christmases, and walking Christmas trees! Even our Managing Director, Tim Hawkins, donned an outfit which made it look as if he was being carried around on Santa's shoulders," commented Elizabeth.
In all the staff raised £520, which the directors agreed to match as a gift from the company, making the total raised for LATCH and Make-A-Wish £1,040. "We're so pleased to be able to make these donations to such deserving charities," said Elizabeth. "We hope they make some small difference, bring some Christmas warmth into the lives of the children and their families at what must be an extremely difficult time of year for them. Maybe next year we can do even better."
# # #
About LATCH
LATCH Welsh Children's Cancer Charity supports children receiving treatment for cancer and leukaemia at the Children's Hospital for Wales and their families. The charity provides accommodation for the children's families while they're at the hospital, as well as vital social work services and ward-based support workers. More information can be found at the charity's website:www.latchwales.org
About Make-A-Wish
Make-A-Wish started in 1986. Inspired by the story of Chris Greicius, a young boy fighting leukaemia in the US, Make-A-Wish UK was formed to grant life-changing wishes to children with critical illnesses in the UK. More information can be found at: www.make-a-wish.org.uk
About Markes International
Markes International is a specialist manufacturer of instrumentation for detection of trace-level volatile and semi-volatile organic compounds (VOCs and SVOCs). Markes has a well-deserved reputation for its application expertise in the field of thermal desorption, supplying a comprehensive range of instruments, sampling equipment and consumables that enhance the analytical capability of GC–MS. Markes' systems are sold to a wide range of research, government and industrial/service laboratory customers operating in sectors including environmental monitoring, homeland security and forensic investigations, petrochemical analysis, materials testing, and flavour & fragrance profiling.