Flowmeter
*** 15% off all products on this page. Ends 8 Dec ***
*** discount applies automatically at checkout ***
A digital flowmeter is required to measure gas flows associated with thermal desorption equipment and sampling. Markes' recommended flowmeter is a hand-held device with a resolution of 0.1 mL/min and accuracy typically better than ±2.5%. It is compatible with eight gases including helium, hydrogen and nitrogen, in the range 0.1–500 mL/min.
Enables repeatable analysis and compliance with standard methods
Rechargeable battery
25-point calibration traceable to UKAS standards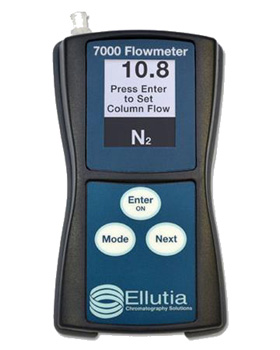 Digital flowmeter
With rechargeable battery
Overview
The flowmeter is used to set flows on instruments with needle-valve flow control (for example, the manual UNITY-xr, manual TD100-xr, Kori-xr and instruments fitted with internal standard capability). It is also used during setup/maintenance of all Markes' TD instruments on GC systems without total flow reporting and when setting flow rates whilst using a Calibration Solution Loading Rig, TC-20, Micro-Chamber/Thermal Extractor or sampling pump such as the ACTI-VOC.
Traditional bubble flowmeters rely on the reaction time of the operator, which is a potential source of error. The digital flowmeter eliminates this source of error, and makes gas flow measurement easier and more accurate.
The flowmeter also enables end-users to set the temperature and pressure of their working environment to allow automatic compensation for changes from its calibration conditions. This helps ensure that a high level of accuracy is maintained.
The flowmeter provides:
Split flow rate: The column flow is measured, followed by the flow through the split line. Column flow, split line flow and split ratio are displayed simultaneously.
Linear velocity: The operator selects a column diameter from the list provided, and then the linear velocity is calculated and displayed. The result is displayed alongside the flow rate so that the operator can view them both and independently set either parameter.
 Specification
Range: 0.1–500 mL/min
Resolution: 0.1 mL/min
Accuracy: 0.4 mL/min or 2.5%
Gases: Air, argon, argon/5% methane, carbon dioxide, helium, hydrogen, nitrogen, oxygen
Each flowmeter is supplied with:
Micro-USB cable
Tubing (50 cm)
Calibration certificate
Instruction manual
ISO/IEC 17025:2005 traceable calibration:
The flowmeter is calibrated for all gases using a 25-point calibration, which is traceable to ISO/IEC 17025:2005. An economical recalibration service is available that maintains the unit's performance; this service is also traceable to ISO/IEC 17025:2005.
Part number:
C-FLMTR