New innovations in thermal desorption instrumentation offer major sensitivity & productivity benefit
9 May, 2019
Innovations in thermal desorption instrumentation
Markes International (Llantrisant, UK) has announced the release of a suite of improvements to its world-leading 'xr' series of thermal desorbers for the analysis of volatile and semi-volatile organic compounds (VOCs and SVOCs).
These enhancements further extend the capabilities of Markes' fully automated TD100-xr thermal desorber and of all the modular systems based on the modular UNITY-xr platform – which include the: Air Server-xr, CIAAdvantage-xr, Kori-xr and ULTRA-xr units.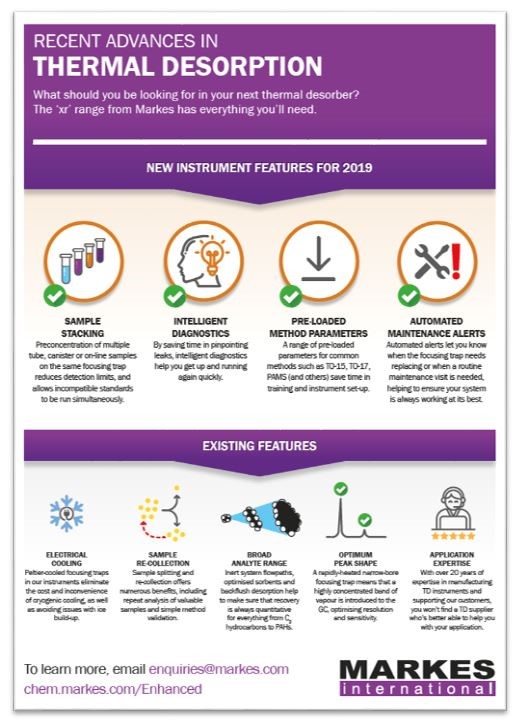 Combining multiple samples for greater sensitivity
A key feature of the new instruments is 'sample stacking'– the ability to preconcentrate multiple tube, canister or on-line samples on the same focusing trap, before its desorption to the GC. This increases the overall analytical sensitivity and usability, and allows the user to combine mixtures of otherwise incompatible standards for analysis in a single run.
Dr Massimo Santoro, Business Unit Director at Markes International, says: "Our customers, whether sampling from tubes, canisters or on-line, are constantly on the look-out for ways to reduce detection limits while at the same time keeping cycle times to a minimum. The new sample stacking capability of our 'xr' systems allows them to do just that, and so get the best out of their TD system".
Intelligent diagnostics for improved productivity
In addition to sample stacking, a range of features help to streamline routine instrument use. Amongst these, the automated alert function routine maintenance is needed will help reduce instrument downtime and help keep the system performing at its best.
Additional diagnostic features are intelligent, automated leak pinpointing for quicker troubleshooting, and remote checking of on-line instruments – a feature that Dr Santoro says has been specifically designed to cut down on-site visits to unattended systems used for air monitoring.
Pre-loaded methods for faster setup
For analysts routinely running standard methods, and especially for new users, the enhanced systems also help to save setup time and speed up user familiarisation, by offering pre-loaded instrument parameters for a variety of commonly-adopted methods.
These include the popular US EPA TO‑15 and TO‑17 methods for canister and tube-based sampling, respectively, as well as the increasingly important PAMS protocol for on-line sampling of hydrocarbon ozone precursors. Also included are methods for passive sampling at refinery fencelines (US EPA 325), direct desorption of materials (VDA 278), and 'best-practice' protocols for low-volatility PAHs, reactive sulfur compounds, and tube/trap conditioning.
Method parameter limits can also be customised to preserve tube and trap packing materials, to extend their lifetime and for peace-of-mind in routine operation, while the use of fixed sampling time intervals for on-line and canister sampling can now be automated, for easier setup and streamlined method-compliance.
Improved analyte compatibility for canister sampling
As well as enhancements driven by system usability, the various models of the CIAAdvantage-xr canister autosampler now have a completely inert flowpath as standard, for improved reliability in monitoring of sulfur compounds and other reactive species using canister-based and on-line sampling setups.
Continuous technical advances
All the above enhancements are in addition to the many other innovations that have made Markes the world leader in thermal desorption. These include electrical cooling of the focusing trap to eliminate the use of costly and inconvenient liquid nitrogen, sample re-collection for repeat analysis and easy method validation, diffusion-locking caps for reliable tube automation, and broad analyte range– with the ability to analyse compounds from C2to C44(including reactive species) enhanced by backflush desorption to extend the range achievable in a single run.
Dr Santoro says: "Constantly pushing the technical boundaries to provide better capabilities and a better service for our customers is a fact of life at Markes. While the 'xr' series was only launched two years ago, I think it says a lot about our ethos that we're already offering this impressive suite of enhancements."
"In the ever-evolving world of analytical chemistry, listening to customer requirements and acting on them swiftly is essential to ensure that our instruments keep ahead of the crowd. It's what we've been doing at Markes for 20 years, and that's not going to change any time soon".