Leak detector
The helium leak detector is a portable, highly sensitive instrument designed to detect the location of helium carrier gas leaks in thermal desorption and GC systems. Gas leaks are indicated with both an indicator lamp display and an audible alarm. The long, flexible probe makes it convenient to detect small and hard-to-reach gas leaks.
More reliable and convenient than using soap solution
Sufficiently sensitive to detect very small leaks (<1 mL/min)
Can be set to detect eight different gases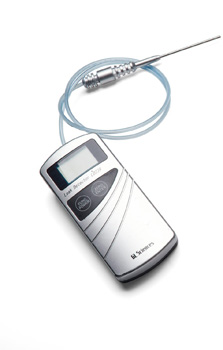 Helium leak detector
Includes USB charger. Not available in Australia, Russia & Taiwan.
Overview
Specifications
Dimensions: 50 mm (W) × 20 mm (D) × 111 mm (H)
Weight: 95 g
Power supply: Rechargeable lithium ion battery installed
Detector: Thermistor-actuated thermal conductivity cell
Battery life: 5 hours of continuous use (fully charged)
Recharge time: 2.5 hours (rechargeable through a USB port)
Accessories: USB cable (1 m), sample gas filter (probe built-in), referential gas filter (built-in)
CE certification: CE-certified
Warranty: 1 year (return to base)
Gas characteristics
Gases detected: Any gas having a different thermal conductivity than air
Sensitivity: Helium 0.005 mL/min (standard range) or 0.0005 mL/min (high range)
Using the detector for gases other than helium is easily achieved by changing the polarity setting.
Part numbers:
C-HLD